No one cares more about your magic
The best books on card magic for the beginner.
This is obviously very subjective. However I'm coming from a place of experience and have listened to a lot of other magicians to gather opinions. Your first few card magic books can make a big difference to whether you carry on or not.
Personally I believe keeping it simple to start and getting performances under your belt is more important that rushing to those knuckle busting moves.

So in no particular order, here are my tips for card books for beginners.
Card College Light Series by Roberto Giobbi
It is a series which is sort of cheating, but really they all offer the beginner a great launch pad. You can start with Card College Light and progress or just jump in with any volume.
Roberto Giobbi is the master at writing understandable instructions and combined with clear illustrations make learning from these books a cinch.

Card College Light contains 21 self working tricks built into routines. This book will help you with your performance, presentation skills and scripting as much as it will your card magic. My pick of the bunch.

Card College Lighter is a collection of 21 self working card tricks from a variety of big hitting magicians including Dai Vernon, Max Maven and Karl Fulves. The tricks mostly depend upon well hidden mathematical principles. This is the well routined, easy to do card tricks.

Card College Lightest, collates 18 sleightless, easy card tricks from some of the best names in magic including Paul Curry and Alex Elmsley. The book also includes easy ways to false shuffle and other moves.
Regular price

Sale price

$32.00 USD

Unit price

per

Regular price

Sale price

$32.00 USD

Unit price

per

Regular price

Sale price

$32.00 USD

Unit price

per
Card College by Roberto Giobbi Series
Roberto Giobbi's Card College Series is probably hands down the best series of magic books any beginner could start with. His concise writing style and helpful drawings make these books wonderful learning/ resource tools. Taking you on your journey from novice to expert every useful move and sleight is taught along with some really routined effects in which to use them.

Dare I say it, these are essential for hobbyist and professional alike.
Beach House Tricks Series by Marc Davidson
I love these books! The contents just blew my mind. Marc Davidson has some how managed to collate the best card magic ever into three volumes.
Relative new comers to my shelf, these books contain professional caliber card tricks broken down into difficulty and plot. Each volume offers a great variety to fit any situation.
You will also be taught card handling skills, moves and sleights as well as lessons on presentations and routine structure.

Regular price

Sale price

$31.00 USD

Unit price

per

Regular price

Sale price

$26.00 USD

Unit price

per

Regular price

Sale price

$43.00 USD

Unit price

per
Destination Zero by John Bannon
Everyone loves John Bannon! and Destination Zero is probably his most loved book. A collection of 25 completely self working tricks that really pack a punch. If you want to borrow a deck of cards and knock your crowd for six, this is the book.
You will learn so much more than just the method of the tricks, you get the inside on the construction and subtleties that make them so strong.
Regular price

Sale price

$52.00 USD

Unit price

per
Royal Road To Card Magic by Jean Hugard
The Royal Road to Card Magic is still considered to be the best beginner card magic book by most magicians. And it is true that it is incredibly comprehensive and contains wonderful card effects. In fact it is the only book on card magic you need whether you want to just entertain friends or become a professional.
It covers just about every principle and sleight and contains all the classic tricks which never go out of fashion.
However, it has somewhat dated and the writing style isn't the most accessible and illustrations are few and far between which makes it hard work by modern standards. If you are prepared to put in the effort, then this book is an absolute goldmine. I always enjoy fooling a fellow magician with something from it.

Regular price

Sale price

$17.00 USD

Unit price

per
Scarne on Card Tricks
My battered and worn but much loved copy of Scarne on Card Tricks still excites me. This amazing book contains over 150 card tricks covering just about every plot. It is an absolute treasure trove. The real bonus being they are all easy! They just use cunning methods and occasionally gimmicks rather than difficult moves.
Anyone can do these tricks, and everyone should. This book should be on everyone's shelf as a resource for both methods and tricks.
Regular price

Sale price

$22.00 USD

Unit price

per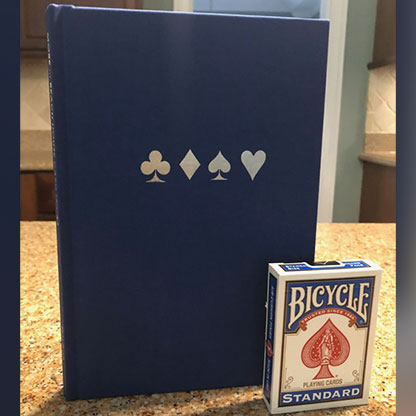 Beach House Card Tricks Vol 2 by Marc Davidson
Regular price
Sale price
$31.00 USD
Unit price
per
Sale
Sold out
Share
View full details