Regular price
Sale price
$5.00 USD
Unit price
per
Sale
Sold out
The Classic Rider Back Bicycle cards.
We didn't change a thing - we just brought back a classic.

This deck resembles the Standard Bicycle Deck in every way except the tuck box, which features the classic Bicycle tuck design. Magicians and fans of the old tuck with classic Bicycle Rider Back design on it are particularly fond of this deck.
For more than 130 years, Bicycle playing cards have reigned as best-sellers, making their mark in history. They served as a beacon of hope and escape for prisoners of war during World War II, while also offering moments of leisure to presidents within the confines of the Oval Office.
Bicycle Playing Cards are not just popular; they are the most widely embraced playing cards across the globe. You'll encounter these decks gracing the most exclusive gambling tables in Las Vegas and adorning the humblest kitchen tables in your hometown.
What sets our cards apart is the unparalleled quality they exude and their distinct, captivating designs. Each deck commences with specially crafted paper, creating a high-quality feel that resonates with enthusiasts. Furthermore, our creative and innovative designs consistently leave fans eagerly anticipating new editions, ensuring that the legacy continues for generations to come.
The most used playing cards for magic as they match most common card gimmicks.
Share
Brand: Bicycle Playing Cards
Creator: USPCC
View full details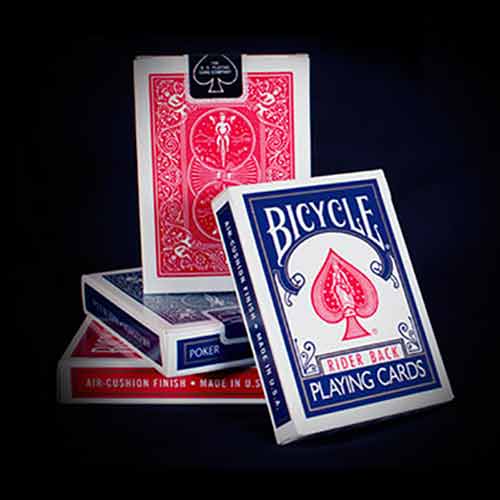 Dependable and affordable.
Fancy cards are great, but you can always rely on a pack of bikes to get the job done. There's a reason they are most magicians' preferred brand of playing cards.
Delivery was, as always, professional and quick - thanks to Alex at Monster Magic!