Regular price
Sale price
$24.00 USD
Unit price
per
Sale
Sold out
"Brent Braun's ability to create magic that is new, novel and relatable never ceases to inspire me. DEFINITELY NOT MARKED furthers that mindset, and will not only amaze, but educate." - Eric Stevens

"Since buying this trick it has been a staple in all my walk around shows. It never fails to get a good reaction. The presentation is interesting and funny at the same time. All of that plus it resets almost automatically makes this a winner in my book." - Jim Turnpaugh

"All the punch of a classic packet trick with none of the goofy 1970s lingo." - Eric Rose

"Definitely Not Marked is an amazing expose on the things people do to cheat at cards. Brent's saved me so much money from no longer falling for these scams, that I'm using that extra money to purchase a copy so I can protect others from falling victim! This packet trick can literally save lives!" - Josh Janousky

"Definitely Not Marked" is a novel, fun and hilarious expose of cheating!" - Jason Palter

"What a fooling and quirky routine. Breathes new life into a packet type effect" - Ryan Schlutz

"Great premise, Super easy to execute and visually stunning. YES PLEASE!!!" - Adam Wilber

Brent Braun's ridiculous expose of real-time card marking is surprising, funny, fooling, and has been in his back pocket for more than a decade, so you know it's good. This packet trick that comes with all the gimmicks you need show your audiences "the real work" of how cheaters always prosper.

In this well-structured routine the performer removes the four aces from a red deck while describing a special type of marking system where you could rub lipstick on the back of the cards to secretly tell what they are. In showing the cards, one of them magically turns pink. Next the performer describes how you can also use the ink in your blue jeans to mark the cards, and now the back of one of the cards has transformed into a blue card. Now a tactile system of marking called nail nicking is demonstrated and the third card has not only turned green but is missing a huge corner. For the finale, the magician proves the last card is definitely not marked by showing it has transformed from a red bicycle backed card to one with boldly printed letters that say, "Definitely Not Marked." The best part is that at the end you can let your audience examine the cards.

In addition to the routine Brent teaches you how to start the trick from a deck of playing cards, and end clean so everything is examinable. The squeaky clean ending is so deceptive, he's been fooling magicians at conventions with it for years. You'll definitely get big reactions with Definitely Not Marked.
Share
Brand: Penguin Magic
Creator: Brent Braun
View full details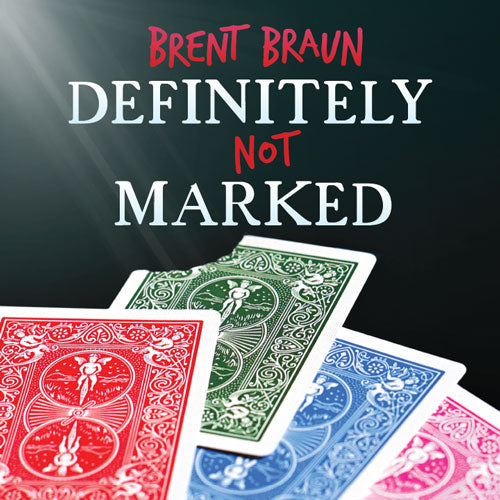 Excellent
Like Color Monty, this is one of the best packet effects. The hook is how cards are marked, and just four aces make the logic of just using four cards. I do not like D/T on cards, so I have roughed the back of the Ace of Spades (using Harry Robsons Vanishing Inc) rough stick. I find it works better than the D/T. I don't do the switch out at the end; I see no reason. The cards can be handled as the changes happen, so no suspicion falls on them—an excellent trick.