Regular price
Sale price
$51.00 USD
Unit price
per
Sale
Sold out
The original Envylope was great, now they have made it even better!
"I've performed the original Envylope at every show for the last nine years, so when 2.0 came out, I had to get it and it doesn't disappoint. Amazing improvements/subtleties have been added." - Christopher Kavanagh

"I've never seen a trick that gets such an incredible reaction." - Neil Wilson


Prepare to astonish your audience with an extraordinary transposition that will leave them questioning the very fabric of reality. Enter the realm of Envylope 2.0, brought to life by the magical minds of Brandon David and Chris Turchi.
Here's the Envylope 2.0 routine:
Begin by presenting a small white envelope for examination, allowing your audience to scrutinise it closely. After their inspection, casually slip the envelope into your back pocket. Next, produce a deck of cards and invite a spectator to select one and sign it. The signed card is then lost somewhere within the deck.
In a jaw-dropping moment, the deck of cards undergoes a miraculous transformation right before your spectators' eyes, morphing into a small white envelope. And the real kicker? Inside this envelope rests the very card that was just signed. To top it off, you reveal the previously vanished deck of cards, now securely resting in your back pocket.
The visuals achieved in this performance are nothing short of breathtaking. The deck appears to be in your hands just moments before its transformation into the envelope, and the revelation of the signed card from the envelope occurs without any suspicious or unnatural movements.
Envylope 2.0 is constructed from modern, durable materials, ensuring both ease of use and longevity. Not only will you be astounded by how the incredible gimmick functions, but you'll also experience the exhilarating James Bond-like sensation it imparts as you captivate and baffle your spectators. The Envylope 2.0 gimmick seamlessly integrates with any red Bicycle deck of cards, and it arrives ready to amaze straight out of the box.
Prepare to shatter your audience's perception of reality and leave them in awe with Envylope 2.0 by Brandon David and Chris Turchi.
Produced by Penguin Magic.
Share
Brand: Penguin Magic
Creator: Brandon David & Chris Turchi
View full details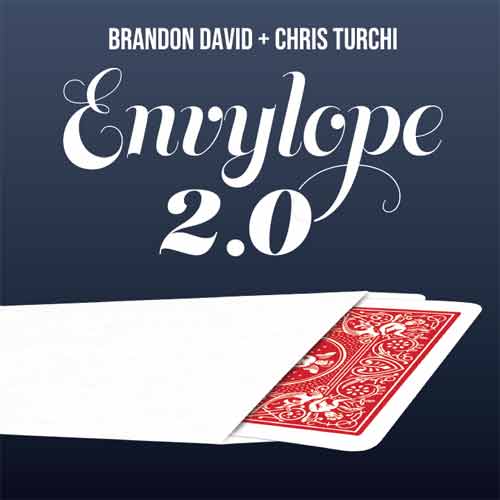 Amazing trick
This effect is amazing and gets the best reactions, it's simple to do. The only problem is it does require some misdirection but it works every time! I absolutely recommend this for a magician!
The service monster magic gives is fantastic fast posting and an excellent after sale service. I love ENVELOPE 2 have had so much fun with it construction is very good can definitely recommend it.
ENVELOPE 2
A fantastic little trick love ENVELOPE 2 easy to do and always gets the best reactions
Nice effect but...
Great trick but the envelope cannot be shown from all angles as it's too bulky
Just Wow
This is one of the best pieces of card magic I perform. Fantastic and leaves people speechless.