Regular price
Sale price
$23.00 USD
Unit price
per
Sale
Sold out
Matthew Wright's "Marvelous Nesting Envelopes" is an incredible way to show a chosen card or prediction without any tricky hand movements or sleight of hand. The setup involves a series of envelopes that are in plain sight from the start of the trick. Matthew spent a lot of time perfecting this method, and it's now a smooth and user-friendly system.

You can discreetly place a playing card or prediction inside this securely locked setup, which the spectator has been holding onto throughout the entire trick. It is a truely impressive card to impossible location that makes for a surprising revelation.

A locked red envelope is opened. Inside is a smaller black envelope. Inside this envelope is a sealed white envelope. Inside this envelope... paper clipped to your business card!... is the signed selected card.

The outer red envelope is small enough to fit into your pocket so can be used as an EDC.

Nesting Envelopes is a great alternative to card to wallet and is considerably cheaper that most card to wallets on the market. It can also be used along with a card to wallet. There are hundreds of brilliant card to wallet routines in the magic community but most performers are limited to choosing just one... who carries 2 wallets? Now you can do your regular card to wallet routine PLUS another routine using the envelope without it looking suspicious.

A great addition to any magic arsenal.

Also included is Matthews incredible effect designed and available exclusively with the Marvelous Nesting Envelope set. Impossible mission is a powerful and baffling piece of mental magic giving you the opportunity to create a true miracle with a deck of cards.
Share
Brand: Matthew Wright
Creator: Matthew Wright
View full details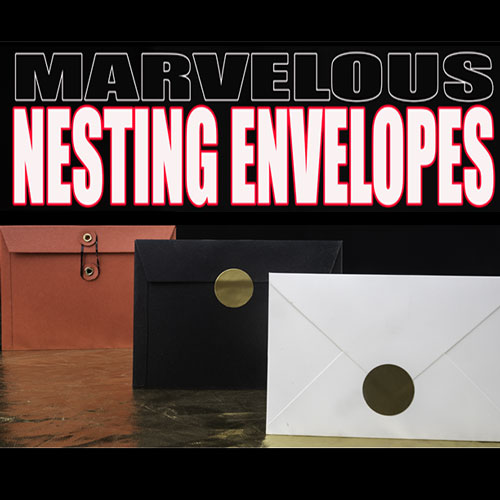 Excellent product and effect at a very reasonable price.
1 star docked as inner envelope not tyvek, as advertised.
But it's a solid product that can cause miracles.