Regular price
Sale price
$25.00 USD
Unit price
per
Sale
Sold out
In a world where masters of sleight of hand have spent decades coming up with beautiful sleights and sequences to separate red and black cards, only one man had the vision to create a colour separation so beautifully simple that magicians around the globe have called it perfect.
It is the kind of eye candy that gives your brain a sweet tooth for magic. Add a little POW to your magic with Perfect Oil & Water by Erik Casey.

No sleights
No odd counts
No split cards.
Here's what happens:
Three blue cards with black faces and three red cards with red faces are shown to the audience. These are openly placed into a glass in alternating red-black order.
A magical gesture is made, and then the cards are spread to show the red and black cards have perfectly separated.
POW is the perfect Oil and Water effect.
The gimmicked cards come ready to go right out of the box. You also receive instructions on how to do a great in-the-hands routine that doesn't need a glass. In addition, you will be taught the version that Jeki Yoo performed on Instagram and went mega-viral. This version allows you to show the faces and the backs of the card completely openly before and after the color separation occurs. POW is ridiculously easy to do. If you can spread a handful of cards, you can do this trick. Smack your audiences with an incredible miracle when you perform POW, Perfect Oil & Water by Erik Casey & John Michael Hinton.
"This is just MAGIC. This oil and water is the most perfect version that exists." - Jeki Yoo

"POW is the best Oil & Water I have ever seen. From the first second I saw it, I knew it would be in my repertoire forever. I love that it's quick, visual, the magic happens at chest height, it's easy to do and instantly resets. I mean what's not to love! This is the perfect opener, the perfect oil and water and most importantly a really amazing trick. I love it!" - Craig Petty

"This is as clean as it gets." - Ryan Schlutz

"I know the feeling well of setting out to figure out a method, not even being sure if there is a solution to be found. Luckily for you, Erik cracked a seemingly impossible code. So when Erik showed me his solution for oil and water, I immediately saw why this is such a special release!" - Kyle Purnell

"POW looks like magic to the audience and the method feels like magic in our hands. This is going to be a great addition to our stage show!" - Chase and Kaileigh (Magic Duo)

Produced by Penguin Magic.
Share
Brand: Penguin Magic
Creator: Erik Casey & John Michael Hinton
View full details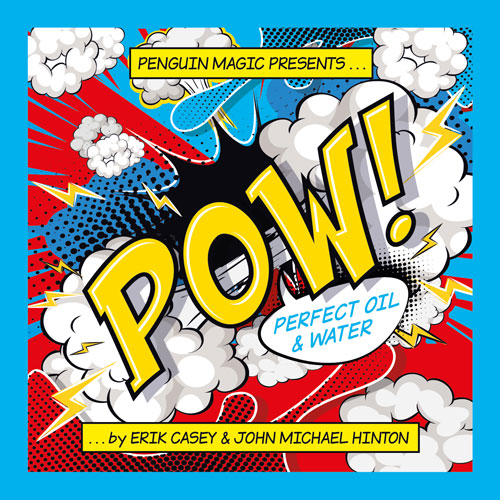 As a novice to magic found POW very easy to perform. Would recommend this to any newcomer to magic.
Thank you once again bought the little gimmick for my self a few weeks ago and loved it so much that I bought this one for a close friend. Once again thank you for fast posting. Paul gladwell
Awesome.
If you can fan cards in one hand, you can do this trick.
Very visual and powerful. Worth every penny and a great carry round.
I never leave home without it