Regular price
Sale price
$29.00 USD
Unit price
per
Sale
Sold out
Nikolas Mavresis and David Jonathan are the dynamic duo when it comes to highly engaging routines, which are easy to do yet pack a punch.

Their new trick PROFILE is an incredibly fun personality test effect that uses a pack of cards. It is a hands off stunner that packs a surprise twist so good you will hear their jaws hit the floor!

Four questions are asked to the spectator, who deals their responses to arrive at a random card. A prediction is read and things take a hilarious and stunning twist towards the amazing surprise climax!

Key points:

Super easy to do - no sleights, no memory work
Can be performed completely hands off - you never touch the cards
Uses an ungimmicked, regular pack of cards
Quickly resets, or use the same deck to go into any other effect
All answers can spell in different amounts of letters
3 amazing versions are taught - each with their own unique kicker endings
Compatible with English, Spanish, Dutch & French languages
Comes with custom designed props, access to a 30+ page PDF and over 1.5 hours of video instructions.
PROFILE is as fun as it is fooling and it may just become your new favorite go-to effect!
"Such a clean and direct effect but for me, the subtle gimmick is the icing on the cake."
- Angelo Carbone
"I love getting fooled with an old plot, which David & Nikolas have breathed new life into. It's such a fun effect - I really love this and am excited to perform it."
- Ryan Schlutz
"A lovely self-working effect, with a kicker surprise ending they don't see coming!"
- Steve Gore
"That's brilliant! Fooled the crap out of me!"
- Chris Congreave
"A very well thought out routine. I love the kicker ending."
- Wayne Fox
Share
Brand: Nikolas Mavresis and David Jonathan
Creator: Nikolas Mavresis and David Jonathan
View full details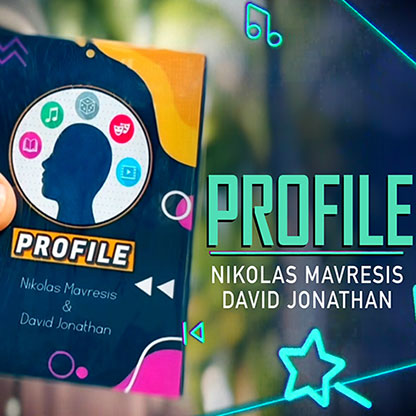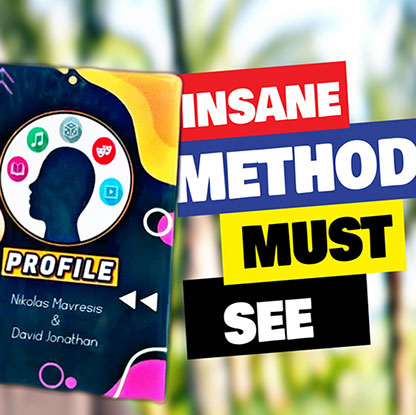 Great self-working trick!
Fun to perform, really recommend!