No one cares more about your magic
Guide to buying Playing Cards for magic
A good deck of card will help your card magic but ultimately, your choice of playing cards for magic is personal preference and should match your style as a magician. Experiment with different decks to find the ones that feel the most comfortable and suit your routines best. Here's a straightforward guide on choosing playing cards for magic:
There are two standard size of playing cards, bridge size and poker size. Poker size are the norm and hold crimps better than the smaller bridge size cards. Bridge cards are often preferred by magicians with small hands who believe it will make moves such palming easier.
Quality is generally even across all the brands as they are produced either by Bicycle or Cartamundi. The big difference is in the card stock/ paper used and the finish.
The back design really matters to some magicians but it doesn't effect the standard of their card magic. I love the Tally-Ho back designs, Bicycle Rider back is recognisable around the world whilst Cohort and others are beautiful. With most gaffs and gimmicks being produced with the Bicycle Rider back design that would be the safe option if you want to be consistant with which playing cards you use for different magic tricks in your routines.
Brands such as Phoenix and Cohort have hidden markings as standard which may be beneficial in some card tricks.
Bee Playing cards have no borders, which can also be beneficial and have a certain aesthetic.
Bicycle Playing Cards (USPCC)
Bicycle Playing Cards rule when it comes to cards for magic. Whether they are the best is open to debate but they are almost every magicians trusted sidekick.
A lot of their appeal comes from the fact they are the most recognised playing cards in the world and that almost every magic gimmick comes with their back design.
They have an Air-Cushion Finish which gives them superior glide for easy handling and shuffling. Bicycle cards are also precision manufactured to give top-notch quality, durability and consistency in every Bicycle deck.
As they are produced in such vast quantities they are not expensive either, making them the perfect all rounder for magic as you can have them signed, or torn etc without breaking the bank.
Now, here's the twist, some of the decks are labelled "Standard" while others are called "Rider Back." To me, the cards inside are the same, the major difference being the tuck box design. The Rider cards have the back design on the box, which a lot magicians prefer. If someone suggests the Rider back are better quality, I'd like them to do a blind testing.
They come in some great colours too, which can add a bit of glamour to your card magic.
Tally-Ho Playing Cards (USPCC)
Tally-Ho playing cards are printed by the USPCC who produce Bicycle cards, so you are guaranteed the same consistency, durability and quality.
However the paper stock is stiffer than Bicycle cards and instead of the Air Cushion finish they have a Linoid finish which is as good if not better. A few notable card magicians prefer them to Bicycle due to the card stock and their cut.
I really like both back designs, the Circle back is very classic and elegant whilst the fan design is more flambouyant.
Cohorts Playing Cards (Ellusionist)
Cohorts by Ellusionist have a beautiful elegant back design with a vintage appeal. They just look like a classy deck of cards.
With the magician in mind, you get a double backer included and an extra queen of spades.
Cohorts use a crushed stock, called E7 with is comparable to Bicycle crushed stock. This makes them thinner than a regular deck, more durable and flexible. They really do handle well and are terrific for all your card magic.
There is also a marking system hidden which will easily pass unnoticed.
They are produced by Cartamundi so the quality is excellent.
Regular price

Sale price

$11.00 USD

Unit price

per

Regular price

Sale price

$11.00 USD

Unit price

per

Regular price

Sale price

$11.00 USD

Unit price

per
Phoenix Playing Cards (Card Shark)
The first deck designed from scratch just for magicians. The Phoenix decks are becoming extremely popular with professional and amateur magicians a like.
Once again they are produced by USPCC so quality is the same standard as Bicycle cards and a back design that is interesting, innocent looking but hides a one way marking.
They are cut specifically to give a crisp down cut edge to help with faro shuffles. As they are designed for magicians, Card Shark have also produced a wide range of gimmicks with the Phoenix design as well as special trick decks. They are worth experimenting with but I don't think they match the price/ quality ratio of other USPCC produced cards.
Regular price

Sale price

$7.00 USD

Unit price

per

Regular price

Sale price

$7.00 USD

Unit price

per
Bee Playing Cards
Bee playing cards are up there with Bicycle as a brand. The use a unique card stock makes them flexible, durable and resistant to warping.
Bee cards are laminated and coated to provide the best slip for shuffling and the borderless diamond back design makes gambling demonstrations easier as they disguise false shuffles, second deals and more sleights of hand.
Regular price

Sale price

$7.00 USD

Unit price

per

Regular price

Sale price

$7.00 USD

Unit price

per
Bicycle Elite Playing Cards
Bicycle Elite Playing Cards by Penguin are manufactured by the USPCC on super thin crushed stock that makes them really flexible and very durable and like the Cohorts, they resist warping in humid conditions or time.
The sharp cutting makes them good for faros, whilst the finish means they handle well for all your magic needs.
Penguin have thought about the magician's needs and include two identical jokers, a double backed card and a blank faced card.
A brilliant deck at a price that won't break the bank, like Cohorts, they should last longer too.
Regular price

Sale price

$6.00 USD

Unit price

per

Regular price

Sale price

$6.00 USD

Unit price

per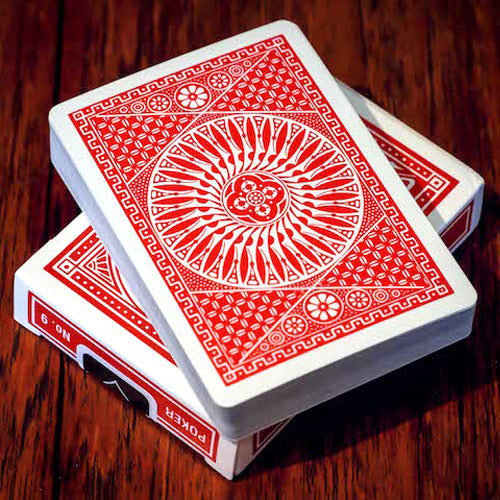 Tally-Ho Circle Back - Red
Regular price
Sale price
$6.00 USD
Unit price
per
Sale
Sold out
Share
View full details